Creating Email Accounts in NexCite
---
1. To create a new email account in NexCite, navigate to your NexCite Administration Page and select the 'Email' tab located on the left side of the page.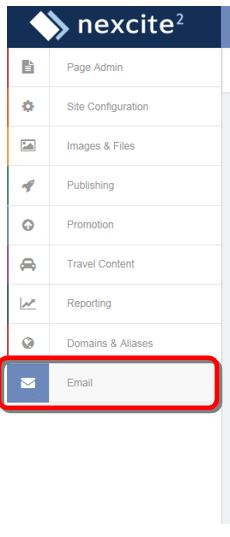 2. Clicking this tab will display all of your email accounts. To add a new email, select 'Add Account'*:


*If you do not see the Add Account button, you may have reached your email limit. Additional email accounts can be purchased by contacting our support or sales team.

3. Here you can set the username for your email account, which will be associated to your domain.
For example, if you set the username to Jane, your email account will be Jane@yourdomain.com. Use the domain drop-down to select which domain you would like the email account to be associated with.
Next, create the password for the account.
Note the password requirements that are displayed to the right.


4. Select 'Add Account' to complete your email account creation.